Labour hosts career exhibition and work seeker registration drive in WSLM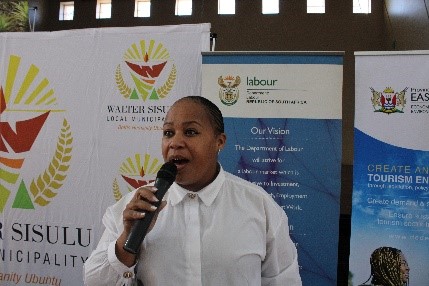 The Department of Labour's Public Employment Services (PES) in partnership Walter Sisulu Local Municipality hosted a career exhibition and work seeker registration drive. The exhibition which was aimed exposing job seekers and out of school youth to different careers and business opportunities from various stakeholders – was held at Burgersdorp Town Hall
Coupled with career exhibition was a work-seeker registration drive that saw many work seekers registering in the Department of Labour and Employment database called Employment Services of South Africa (ESSA).
ESSA is a system which has been developed to register work seekers and work opportunities that have been supplied by employers looking for workers. ESSA is therefore an automated matching platform where work-seekers are matched with available opportunities
Public Employment Services (PES) provides the employment services free of charge to members of the public and employers alike.
Addressing the exhibition Mayor, Cllr. Vania Davids encouraged youth to have passion for their future and know on every door to seek for available opportunities. "There is a high competition for the limited opportunities and only those are consistent get to grab them. Each person has to identify their own differentiator and competitive edge to compete for the available limited opportunities," she said.
The career exhibition was attended by various government departments and agencies that provided services to job seekers and out of school youth in the venue.