Municipal Manager concludes engagement with employees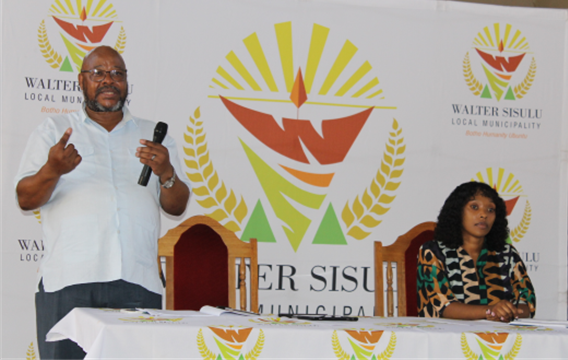 The Municipal Manager of Walter Sisulu Local Municipality, Mr. Khaya Gashi has concluded his visit to all administrative units of the municipality. The employee engagement drive to all units that saw the municipal manager accompanied by the entire top management, was aimed at strengthening relations between management and employees.
The engagements started on Monday, 27 February 2023 in Venterstad and Steynsburg before moving to Burgersdorp, Maletswai and James Calata on 01 - 02 March 2023 respectively.
Mr. Gashi said the visits to the municipal units is part of employee engagement session he committed to undertake when he was introduced to employees on assumption of his duties in April 2022.
"The employees are the engine of this municipality and are our foot on the ground as we perform our obligation of service provision to the community, it is very crucial to constantly engage them on their challenges and collectively come up with ways to improve service delivery," he said.
The engagement sessions were warmly welcomed by employees in all the administrative units. They expressed their wish that these sessions be made a norm.
Commenting on the visits of the municipal manager, Mr. Jeffry Thukani who is a supervisor under Waste Management Section in Venterstad said he was very grateful to have had an opportunity to directly engage the municipal manager on his daily operational challenges.
"I am happy that the municipal manager and his delegation visited us, I feel like something is taken off my shoulders after I told him directly all my challenges. We have hope that things will start changing for the better bit by bit," he said.
The municipal manager said they had a fruitful engagement in all the units and they will seat as top management to reflect to all the inputs and find best ways to improve working environment