Mayor welcomes interns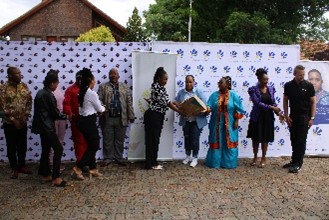 Walter Sisulu Local Municipality Mayor, Cllr. Vania Davids has welcomed 16 interns who will be placed in various sections of the municipality according to their qualifications
The internship programme is implemented by Ubuntu Institute on behalf of Finance and Accounting Services Sector Education and Training Authority (FASSET).
The aim of the internship programme is to address skills shortage and expose young and unemployed graduates to the work environment and thus provide them with the necessary work experience.
In her welcoming remarks, mayor, Cllr. Vania Davids urged interns to make use of the opportunity granted to them. "This is a limited opportunity and you must learn as much as you can,"
She added that they must implant what they have been taught at school and make a difference in their respective units. Ubuntu Institute CEO Princess Cedza Dlamini said their mandate was to work with various stakeholders to ensure that young people obtain relevant skills and develop expertise that will enhance their career development
"We would like to thank the municipality for partnering with us as we both strive to respond to a call for youth development and it is our hope that these young people will grab this opportunity with both hands and use it effectively," she said. The programme will run for 12 month and during the period, the interns will be assigned to mentors who will be responsible for coaching, mentoring and supervision.