Walter Sisulu Speaker, IEC take Democracy to Schools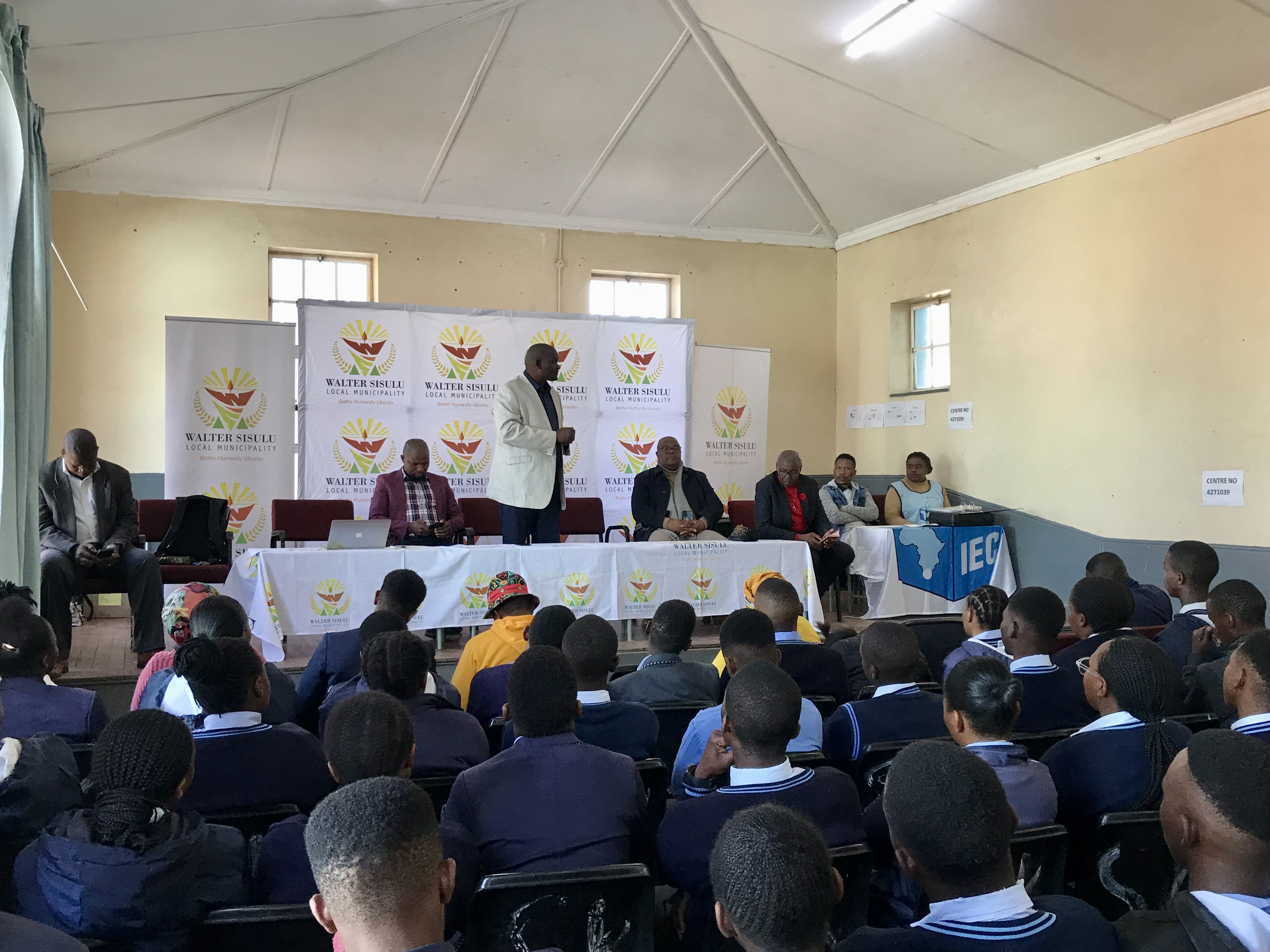 The Walter Sisulu Local Municipality, led by Speaker Cllr Nalisile Mathetha, and the Independent Electoral Commission (IEC) held a voter registration awareness campaign at the Simphiwe Khethwa Secondary School in Venterstad on 07 August 2023.
The awareness session aims to encourage active citizenry among young learners by engaging them in democracy and civic education as well as voter registration activities.
This is in line with the IEC's School Democracy Programme facilitated every year. The objective of the campaign, especially in the run-up to the 2024 general elections, is to:
Educate youth citizens about their civic and democratic rights and responsibilities;

Engage youth citizens' views about electoral democracy and impact of participation thereof through debate;

Empower the learner and student electorate with information to participate meaningfully in democratic and electoral processes;

Promote and conduct online voter registration using voter management devices at targeted schools and tertiary education campuses.
IEC official, Mr Mangaliso Masina said it was important for young learners to participate in democracy to shape their future.
"We are here to encourage you to vote and we want you to take the responsibility to keep our democracy alive, vibrant and strong," said Masina.
Speaking on behalf of the school, Principal Mr Galliot Sigojo, said they appreciate these sessions as they further contribute in retelling the stories of the liberation struggle and democracy.
"As our struggle icons fought for freedom and democracy, we want you to take the baton from the likes of Simphiwe Khethwa and others so that you become leaders of tomorrow," said Sigojo.
Speaker of Council, Cllr Nalisile Mathetha said the campaign is important because it bolsters public participation and encourages learners to partake in decisions that affect them.
"When you vote, you make a decision on issues that affect you, your community, your province and service delivery at large. In that way, you protect your own right enshrined in the constitution and impacting on your future," said Cllr Mathetha.
More voter registration awareness campaigns will be conducted at Ntlalo Senior Secondary School, Steynsburg, on 08 August 2023 and Phambili Mzontsundu Secondary School in James Calata on 10 August 2023.