Speech - Walter Sisulu Local Municipality State of the Municipal Address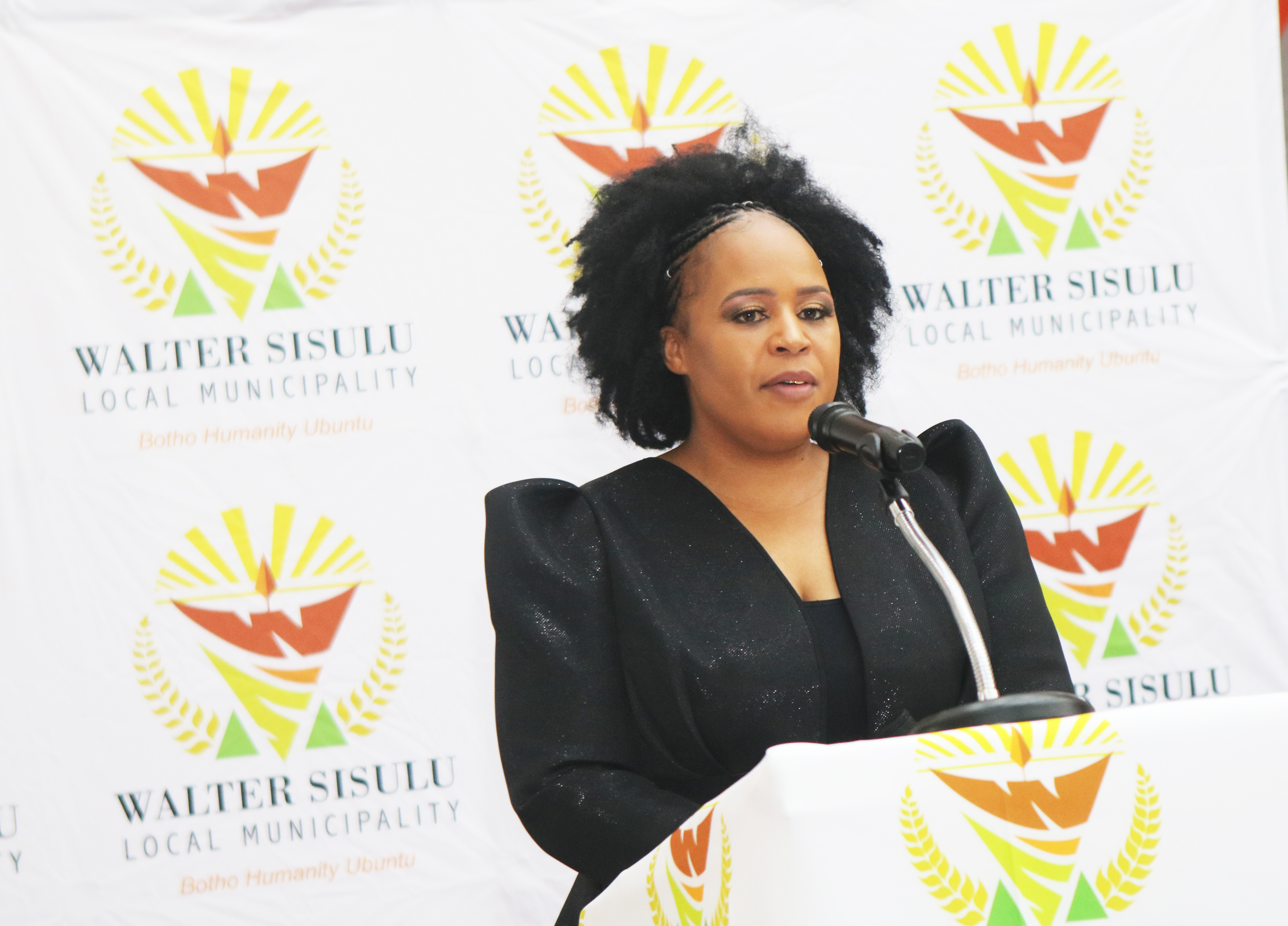 STATE OF THE MUNICIPAL ADDRESS (SOMA 2023)
Delivered by
Her Worship
the Mayor of
Walter Sisulu Local Municipality
Councillor Vania Davids
Tuesday, 30 May, 2023

Honourable Speaker of the Walter Sisulu LM,

Honourable MEC of Human Settlement in the Eastern Cape,
Honourable Executive Mayor, Honourable Speaker of Council and Honourable Chief-whip of Council of the Joe Gqabi District Municipality
Honourable Chief-whip of Walter Sisulu Local Council, Members of Walter Sisulu LM's Executive Committee,
Former Mayor of Walter Sisulu Local Municipality
Honourable Councillors,
Administration of Walter Sisulu LM led by the Municipal Manager Government and stakeholder representative present here,
and

Ladies and gentlemen of Walter Sisulu municipal area following us on Facebook and our Community Radio Stations,
MOLWENI – DUMELANG – GOOD MORNING – GOEIE MORE
Honourable Speaker, it is an honour once more to stand here on this occasion of the 2023 State of the Municipal Address, in which on behalf of Council, I address valuable residents of Walter Sisulu in particular and citizens of this beautiful country in general.
I am deeply humbled by this opportunity, because it affords us an opportunity to inform our people what we have done in the 2022/23 financial year and what we seek to achieve in the coming financial year.
Mister Speaker, the political theme for the 2023-24 municipal calendar year is: 'The year of decisive actions to build a strong foundation for a financially viable municipality.'
Let me remind the house and the public that the political theme for the 2022/23 financial year was 'Service Delivery Machinery Engineered.'
One may ask: was service delivery machinery engineered? Later in my address I will provide details that will answer that question.
Our icon, Walter Sisulu once said, and I quote "There are no short-cuts. There are no easy answers. There are no complete formulas. Only continuous campaigning among the people, with continuous response to their own activities, taking them a step forward each time, can lead us to our goal."
Walter Max Sisulu was born on the 18th of May 1912 in Engcobo and passed away on the 5thMay 2003 in Johannesburg. This therefore means May is a Walter Sisulu month.
Our municipality is in a process of developing a financial recovery plan. This process binds the municipality in the exercise of both its legislative and executive authority, including the approval of budget and legislative measures giving effect to the budget, but only to the extent necessary to achieve the objectives of the recovery plan.
Honourable Councillors, due to missteps of the past, this mandatory process will be used an instrument to guide the municipality in addressing the financial crisis as well as to ensure that the municipality regains its financial health within the shortest timeframe whilst ensuring that all issues which adversely affect the financial health of the municipality are resolved.
Honourable Speaker, you will remember the African proverb I quoted in the 2022 SOMA and it goes as follows: "When the rhythm of the music changes, the dance step must change also."
The rhythm of the music has changed, we can't be found standing idle. Our dance steps must also change in tune with the rhythmic elements of the music.
People of Walter Sisulu municipal area, it is against this background that the political theme for the 2023/24 municipal calendar year is: 'The year of decisive actions to build a strong foundation for a financially viable municipality.'
As political custodians of Walter Sisulu Local Municipality trusted with steering this institution to greater heights:
1. We must be united,
2. We must be politicians (not technocrats),
3. We must take risk free decisions,
4. We must take calculated decisive actions,
5. We must live within our means,
6. We must encourage our people to pay municipal services they have consumed, and
7. We must be seen and heard doing the right things and also doing things right.
I am confident that the above listed aggregated, mixed together in correct quantities, can yield a strong foundation for a Walter Sisulu that is financially viable.
As political leaders, we must do our bit, all else will follow. Without sound financial muscles we will not achieve what our people expect from us, quality and reliable services.
Honourable Speaker, in the 2022 State of the Municipal Address we listed the following key development priorities and I reflect on them:
Key Development Priorities

Status

Building a new institution

This is work-in-progress. To mention a few: we are done with staff placement, we have built our technical and planning capacity in our town planning, roads & storm-water, etc.

Electrification of informal settlements

Phase 1 of this project is almost complete in Maletswai. These are settlements that were established with a municipal consent.

Improve the road infrastructure

Some projects were completed and from July 2023 we will undertake phase in Maletswai.

Revenue enhancement

The Municipal Manager has established a task team in this regard and the sand is starting to move. We will continue with this project.

Effective, efficient and economic use of municipal resources

This is work in progress and the financial recovery plan is pushing us to this direction. It is a painful exercise however it must be done if we want to build a financially viable municipality.

Improved communication and public participation

Our communication outlook is in a rise and we have beefed our team with a Media Liaison Officer.

To enhance public participation in the affairs of the municipality and we have adopted a Community-Based Planning Approach. We visited all wards and towns in an exercise of developing Ward-Based Plans and drafts are in place. We will be meeting with each and every government department mentioned in the reports and later this year we'll be going back to each Ward to provide feedback.

Vigilant oversight (monitoring and evaluation)

My fellow Councillors have upped their oversight role, they conducted onsite visits in projects and municipal properties.

The Municipal Public Accounts Committee and other Council Committees are getting there.

This is work in progress.

Contribute to reduction of unemployment and crime

These are 2 of the most stubborn negative factors. Regardless of how much we try to address these challenges, these two keep on taking us back. Over a thousand job opportunities have been created through projects by SANRAL, DEDEAT and Department of Public Works & Infrastructure.

We must try harder, especially on fighting crime. Our communities must partner with the 3 spheres of government in real time. Working together we can arrest crime. These criminals live among us, they are our children, brother & sisters and we must report them to the law enforcement agencies.

Promote social cohesion and voluntarism

This is work in progress. We have not yet found the correct rhythm required to drive this project.

Economic development

Walter Sisulu municipal area is still facing a negative economic recovery since the end of the Covid-19.

The local economy is expected to recover in the next years and that is dependent on the recovery of the provincial and national economy.

Skills development

Skills development is 1 of the cornerstones of our economic recovery.

In Walter Sisulu alone, there are over 200 young people that are in different learnership, internship, in-service training and other programmes.

Walter Sisulu LM is in partnership with a number of partners like the Walter Sisulu University and FASSET to build the required skills set.

Support to vulnerable groups

This is a priority that is close to my heart, because it take care of children, youth, women, the elderly and the disabled.

To highlight a few: the Office of the Premier has delivered a fully-fledged personal care infrastructure to a young person in Venterstad and an Old Aged facility to Sonwabile NPO in Maletswai.

DSRAC has handed over a state-of-the-art studio equipment to the Maletswai Arts Movement and I happy for this because it is 1 of the priority projects in our Youth Development Strategy.

Over 500 people have been appointed as participants in the Community Works Programme and majority of whom are women.

Very soon, we will be publishing a detailed report about work done under this priority.
Honourable Speaker, Councilllors and residents of Walter Sisulu, a detailed municipal service delivery report for the 2022/23 calendar year will be developed and published by end August 2023.
Honourable MEC Lusithi, our Stalwart, Walter Sisulu, once acclaimed: "It is a law of life that problems arise when conditions are there for their solution."
Walter Sisulu Local Municipality is facing a number of challenges that require immediate and decisive actions. These challenges know very well that they can be defeated. It us upon us, working together that we can do so. I now highlight a few of these challenges:
ü Land for integrated human settlements,
ü Water and sanitation infrastructure to drive economic recovery and community infrastructure development,
ü Inactive young people,
ü Illegal occupation of government land,
ü High unemployment - especially in young people and women,
ü High crime rate – fuelled alcohol and drug abuse,
ü Low payment rate of municipal services,
ü The Eskom debt and persistent load shedding.
Members of the public present here and following us through different platforms, as Walter Sisulu Local Municipality, we have planned to do the following in the 2023/24 municipal calendar year:
Strategic Development Pillars

Priority Projects

Human Capital Development

Ø Skills development (learnership, internship, etc.)

Ø Staff capacity building

Infrastructure Development

Ø Rehabilitate public infrastructure

Ø Complete blocked projects (stadiums, roads, etc.)

Ø Construct new public infrastructure (roads, electricity, water, sanitation, waste management, etc.)

Ø Upgrading gravel roads.

Ø Local construction sector development

Ø Formalisation of municipal-approved informal settlements.

Economic Development

Ø Develop a local economic strategy and other sector plans,

Ø Undertake embedded generation (renewable energy initiatives),

Ø Release land parcels for commercial and small enterprise investment,

Ø Comprehensive spatial planning and land use,

Ø Commercialisation of the Aliwal Spa Holiday Resort,

Ø Procure local (from compliant service providers),

Ø Small enterprise support and development

Ø Red-tape reduction

Sound Financial Management

Ø Financial Recovery

Ø Intensive revenue collection

Ø Correct billing

Ø Modernise financial management system

Ø Improved financial records management

Ø Proper controls

Ø Progressive supply chain management practice

Good Governance and Public Participation

Ø Improved developmental communication

Ø Strengthen stakeholder participation

Ø Improve functionality of Ward Committees

Ø Enhance social contract between Councillors and communities

Ø Build on the work done in implementing the CBP approach

Ø Create engagements platforms.

Social Development

Ø Lobby and advocate for resources to implement projects emanating from the Youth Development Strategy,

Ø Support initiatives that seek to end gender based violence,

Ø Support projects that strive to protect and develop children,

Ø Support programmes that address the plight of disabled people, especially children,

Ø Lobby, advocate and support activities that protect the elderly ,

Ø Provide housing to deserving destitute families,

Ø Address housing needs of recognised and deserving military veterans,

Ø Support the LGBTQIA+ community
Honourable Councillors, on Tuesday, 6 June 2023, Walter Sisulu will host an event to commemorate Childs Protection Week in partnership with the Department of Health.
Starting from yesterday until this coming Friday, learners in Vumile, Pelomosa and Floukraal Primary Schools, all under the Maletswai circuit) are receiving specialised health services the need. This is a joint initiative by MEC Meth and our MP for the Maletswai Constituency Office of Honourable Mpushe.
Honourable Speaker, a number of high impact projects will be implemented in our municipal area from this year and hereby highlight a few of them:
DEPARTMENT

PROJECTS

Health

- Upgrade and refurbish the James Calata hospital (including the X-Ray room, etc.)

- Construction of professional accommodation at the Steynsburg Hospital

- Completion of the Thembisa Clinic (park homes) in Burgersdorp

- Upgrade and refurbish the Aliwal North Hospital in Maletswai

Rural Development & Land Reform

- Fencing in Maletswai and Venterstad

- Stimulus packages in Maletswai and James Calata

SANRAL

- A 14 kilometres special maintenance project between James Calata and Maletswai expected to start in July 2023,

- By end of 2023 there will be a R30-million investment in community development projects in Maletswai, Burgersdorp, James Calata and Steynsburg, and

- Construction of a multi-million Rands new bridge project over the Senqu River in Maletswai expected to start in June 2024.
Honourable Councillors, Walter Sisulu Local Municipality is part of the Karoo Small Town Regeneration and Economic Development Initiative and the Minister Agriculture declared Karoo as a spatial region.
This initiative seeks to facilitate inter-provincial and inter-municipal cooperation to drive tourism, agriculture, renewable energy, mining, logistics and science.
Having said that, I call upon young people in particular and all people Walter Sisulu to be creative and innovative in order to grab opportunities that be fall from the Karoo Region initiative. The Human Science Research Council is currently doing research in our area.
Ladies and gentlemen, Miss Iyanla Vanzant, a black American author, uttered the following words and I quote:
'Comparisons are a form of violence. When you believe you are not good enough, you will compare yourself to others.'
'Rather than beating yourself up for what you are not doing, appreciate and celebrate the things you are doing.'
In closing Mister Speaker, I invite people of Walter Sisulu, to:
Ø Read our IDP document,
Ø Follow us on local community radios,
Ø Interact will us on our Facebook page,
Ø Attend ward-based meetings, and
Ø Write to us.
The purpose is to engage further on the SOMA 2023 and municipal development priorities in general, enhance public participation and build trust.
The people of Walter Sisulu: as your elected leadership, we will take decisive actions to make this municipality a viable institution. Put your trust in us, we are capable. Where we are not sure, we will consult you.
We will not fail you! We will not fail you! We will not fail you - as we enter last stages of a municipality trusted for providing quality services.
I thank you for the opportunity to address.